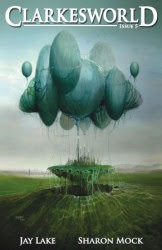 Clarkesworld shares this haunting story of a sorceress who longs for a beloved whom she has never seen or touched. Sharon Mock displays her considerable prose talent in this short story. It begins thus:
The shadow of my father's citadel falls over me and still I tremble. Still I look perpetually over my shoulder as though you follow me, you who are banished from this land forever. In my fever I think that it is you who dries the leaves on the trees, blows away the petals of the rose. But no, it is only autumn, nothing more.
Read the
whole of the tale for free here
. Highly recommended for readers who like stories involving magic that is unsystematic, mysterious, powerful.